News
Meet The Team: James King, Warranty and Claims Manager
Meet James King, a warranty and claims manager for Flexiteek and Wilks products.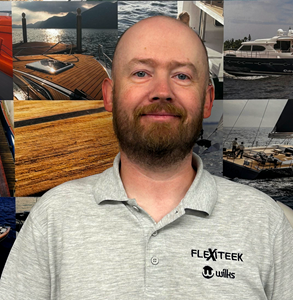 Tell us about your background. What did you do before joining the Wilks team?
I am a fully qualified motor mechanic. However due to back problems, I came out of the workshop and joined customer facing roles for various car companies. Whilst in the motor trade, I was also a nightclub light and sound engineer and DJ. I then moved to be technical support, warranty specialist and technical trainer for a wood chipper manufacturer.
How long have you worked here?
For around 3 months.
Tell us about a typical day – what does your job involve?
As a warranty and claims manager, my typical day involves looking in to any customer concerns that have been raised by our distributors, either warranty issues or any quality problems. In addition to my responsibilities I research possible causes and give ultimate decisions and explanations. I also am involved in the internal audit process and tool calibration.
What do you enjoy most about your job?
No two days are the same, it is always varied. It's great to be able to have the freedom to develop and explore ideas.
What would you say the most significant achievement at Wilks has been so far?
In my short time here I have learned so much, I am most proud to have been able to assist in getting the ISO 14001 accreditation for the company, as it is a significant asset to Wilks and Flexiteek.
What do you do in your spare time?
I am a petrol head so I enjoy car shows with my son. I have a Mini Cooper S that I use for track days which I really enjoy. Also, I am a keen snowboarder. I collect retro games consoles and vintage (1990s) mountain bikes.
Find out more about the Flexiteek / Wilks team here.